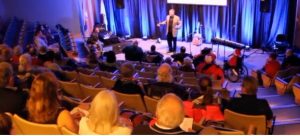 I AM Ministries is a Christian ministry pioneered by Rev. Paul Ross.  It started at the turn of the millennium when Paul initiated some sports camps.  Known as International Athletic Ministries, it was instituted largely upon Paul's desire to present young people with the gospel. He had been involved with Hockey Ministries International as a dry land training instructor and always dreamed of taking his son to camp. One problem, Ben hated hockey. So the sports camps were developed around Ben's interest in baseball, basketball, soccer, and football.
In the early years, the Christian Sports camps allowed IAM Ministries to provide exceptional athletic training at an affordable cost.  Most importantly, life long memories were formed as families were reached with the gospel of Christ.
Today, IAM Ministries functions primarily through the banner I AM Able, which is a ministry reaching out to the physically disabled.  Also we have an online program explaining the basic idea of the gospel here.